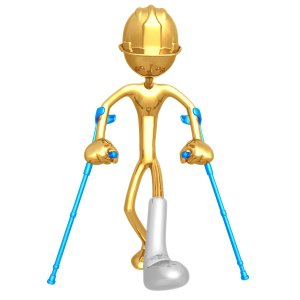 Employers in Maryland are legally required to provide workers' compensation insurance for their employees. This means that if you've suffered an injury or occupational disease during the course of your work, you can seek the help of a workers' compensation attorney near Baltimore. Your workers' compensation attorney can help you file a temporary or permanent disability claim.
Temporary Partial Disability
Your lawyer can help you request temporary partial disability benefits if you are not completely disabled and you are expected to recover. This type of workers' compensation claim may be right for you if you've suffered a minor injury or mild occupational disease. During your recovery, you're expected to perform part-time or limited duties. Since this will reduce your wages, you may be entitled to receive compensation to replace some of your lost income , in addition to compensation for medical expenses related to the health condition. Your workers' compensation attorney can let you know how much money you may be entitled to.
Temporary Total Disability
If you are expected to recover from your occupational disease or injury, yet you cannot work at all during this time, you can file for temporary total disability benefits. Bear in mind that you will no longer be considered disabled when you return to your job duties in some capacity, even if you haven't reached your pre-injury level of health. Alternatively, a healthcare provider may determine that you have obtained maximum improvement.
Permanent Partial Disability
Far too often, workers suffer work-related injuries and diseases that permanently disable them to some degree. Filing this type of workers' compensation claim does not mean that you will receive workers' compensation benefits for your lifetime. The length of time you'll receive benefits depends on the severity of the injury and the body part that was injured. For example, you can receive benefits for 100 weeks if you've lost your thumb or the use of your thumb.
Permanent Total Disability
If your physician determines that you will never be able to return to work in any capacity as a direct result of the occupational disease or injury, your workers' comp attorney serving Glen Burnie can help you file a permanent total disability claim. This type of claim is reserved for those who have suffered the most serious of injuries, such as the complete loss of limbs, eyes, hands, or feet.