Truck Accident Lawyer in Glen Burnie, MD
Fighting for What You Deserve After a Truck Accident
Jack Schmerling, Attorney at Law, is committed to getting the compensation you deserve following a commercial truck accident. Our Glen Burnie, MD, truck accident injury lawyer, is on your side. If you're suffered injuries following a truck accident when you were not at fault, we will fight for your benefits. Don't sign an insurance settlement without consulting with us first. We will deal with your insurance company, negotiate a settlement, and get the money you deserve. Contact us today for a free consultation.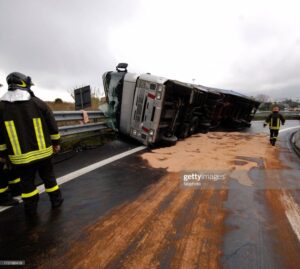 How Our Truck Accident Lawyers Can Help You
We are passionate about helping truck crash victims receive the compensation they deserve. You don't need to suffer alone. We are devoted to:
Identifying all sources of compensation
Negotiate for an insurance settlement
Walking you through each aspect of your case
Communicating with all other parties
Consulting with experts, including accident reconstruction specialists
Organizing important accident documents
Collecting evidence for your case
Common Causes of Truck Accidents in Glen Burnie, MD
The most common causes of commercial truck accidents include:
Driver Drowsiness –Truck drivers' time behind the wheel is regulated to help them stay alert with fewer hours. Many commercial truck drivers still drive when drowsy due to pressures from their company to meet deadlines.
Impaired Driving –Some truck drivers take charge of their large vehicles while on opiates or impaired by alcohol. Painkillers and some Over-the-counter medications have severe side effects that often lead to impaired driving.
Speeding –When a truck exceeds the posted speed limit, scary consequences can be. It is also an offense when a truck is driving too fast for conditions, including wet roads, pavement breaks, and construction zones.
Reckless Driving –There are times when a truck driver is triggered by another driver and acts carelessly. Aggressive driving often leads to dangerous consequences.
Distracted Driving – Distracted driving is any activity that takes the driver's eyes off the road. A truck driver could glance at their phone, write a text, eat, smoke, or even daydream to be a distracted driver.
Other Types of 18-Wheeler Driver Error –Some of the lesser common causes of truck driver error include following too closely, overcorrecting, failure to yield, and improper passing.
What Injuries Occur in Truck Accidents?
Truck accidents often lead to catastrophic injuries. Commercial trucks weighing up to 80,000 pounds create a deadly force upon collision. Some of the severe injuries we see in truck accidents include:
Bone fractures
Brain injury
Spinal cord injury
Ruptured discs
Severe burns
Disfigurement
Internal bleeding
Muscle or ligament damage
What Compensation Can I Recover in a Truck Accident Claim?
When severe injuries affect your life after a truck accident, you deserve compensation. Physical therapy and medical intervention often lead to lifelong physical and cognitive deficits. We will fight for compensation for:
Medical expenses
Lost wages
Lost future income
Mental anguish
Impact on loved ones
Possible punitive damages
If you lost a loved one in a truck accident, we will pursue compensation through a wrongful death lawsuit. You deserve compensation for lost wages, funeral expenses, and emotional pain.
How Do I Prove My Truck Accident Case?
We will help prove your truck accident case. You can help us by:
Taking photos of the accident scene
Recording witnesses
Collecting the truck driver's information
Offering an official statement to police
Contacting us as soon as possible following the accident
If needed, Attorney Jack Schmerling and our team will help prove your case by:
Thoroughly examining the vehicles and accident scene
Reviewing the trucker's log books
Expert examination of the vehicles
Reviewing all accident reports
Obtaining electronic evidence, including cell phone records, the truck's "black box," and GPS coordinates
Contact Us to Schedule a Free Consultation
We don't want you to suffer alone. We understand truck accidents can cause lasting physical and emotional pain. As a premier commercial vehicle accident attorney for over 40 years, Jack Schmerling is on your side. Our office has over 40 years fighting for victims' rights. Our experience and knowledge ensure a positive outcome for you. Contact us today to schedule your free initial consultation.
Our Values Statements
Over 35 Years of Experience
Work Directly With Attorney Jack Schmerling
Free Consulations
No Recovery, No Fee