Neck Injuries in Baltimore, MD
Hire an Experienced Neck Injury Lawyer
Even minor neck injuries can affect your ability to work, exercise, sleep, participate in hobbies you enjoy, and spend time with family and friends. If your neck injury resulted from a work accident, car accident, or someone else's negligence or ill intent, you may be entitled to compensation. At the law offices of Jack J. Schmerling, attorney at law, our team has over 35 years of experience obtaining compensation for damages due to neck injuries in Baltimore, MD. We can help you navigate the complexities of the legal system and get the compensation you deserve. Call us today to schedule a free initial consultation with our neck injury lawyer.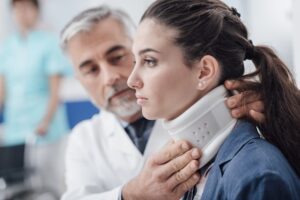 Accidents That Cause Neck Injuries
Your neck is a delicate structure that is made up of muscles, tendons, ligaments, nerves, vertebrae, and spinal discs. An injury to any of these structures can cause significant symptoms that affect your day-to-day life. While not all accidents will result in compensation under a personal injury lawsuit, some neck injuries occur due to circumstances like negligence or malicious intent. This may allow you to seek compensation for your injuries in court. The most common accidents seen in neck injury lawsuits are:
Auto accidents.
Workplace accidents.
Sports accidents.
Slip and fall accidents.
Amusement park rides.
Repetitive stress.
Abuse or assault.
Common Neck Injuries in Vehicle Accidents
In personal injury lawsuits, car accidents are among the most common causes of neck injuries. Whether you are a passenger or driver, even a minor collision can injure or damage the cervical spine and soft tissues of the neck. The most common neck injuries that result from vehicle accidents are:
Whiplash
Sprain or strain of the muscles, ligaments, or tendons.
Herniated disc or bulging disc.
Slipped disc or ruptured disc.
Spinal damage.
Severed spinal cord.
Paralysis
How a Neck Pain Doctor Helps Car Accident Victims
Even if you feel fine after being in a car accident, you may have hidden injuries. Adrenaline can mask pain and other symptoms of injury. Some auto injuries, like whiplash, may not show signs or symptoms until days or weeks later. Visiting a doctor or chiropractor right after a car accident allows you to get a full medical evaluation, including x-rays and an MRI or CT scan. Your doctor will uncover hidden auto injuries, including neck injuries. They can assess your symptoms and offer an official medical diagnosis and documentation of your condition and symptoms. Your personal injury attorney will need this documentation to prove damages in your neck injury lawsuit.
Who is Liable for Your Neck Injury?
Your personal injury attorney will determine who is liable for your neck injury. Liability means that someone else is responsible for the harm or injury caused to you. In your personal injury lawsuit, that person, people, or entity will be listed as the defendant or defendants. Your attorney must be able to prove in court that you were injured due to another person's or entity's negligence. To prove liability, your attorney must show that the defendant had a duty to protect you from injury, that they failed in that duty, that you suffered harm due to that failure, and that you are owed compensation or damages due to that harm.
Pursuing Compensation for All Types of Neck Injury
An experienced neck injury lawyer can help you pursue compensation for all types of neck injuries. In Maryland, you are entitled to seek economic and non-economic damages in a personal injury lawsuit. Economic damages are monetary damages such as medical bills, physical therapy or rehabilitation costs, property damage costs, and lost wages. Non-economic damages are non-monetary damages for loss of consortium, loss of enjoyment of life, and pain and suffering. In Maryland, there is no cap on economic damages awards. Still, there is a cap on non-economic damages of $905,000 for personal injury cases and $2,262,500 for wrongful death cases with two or more survivors.
Discuss Your Claim With a Neck Injury Lawyer in Baltimore
If you're ready to discuss your claim with a neck injury lawyer in the Baltimore area, call us today or contact us online. We will set up a free initial consultation with Mr. Schmerling and his team. He will review your case's details and determine if you have a chance at a successful outcome. You can also ask questions and get to know Mr. Schmerling and his team.
Our Values Statements
Over 35 Years of Experience
Work Directly With Attorney Jack Schmerling
Free Consulations
No Recovery, No Fee