Brain Injury Lawyer in Baltimore, Maryland
Baltimore Brain Injury Lawyer
Recovery following a traumatic brain injury can take an emotional toll and change life as you know it. Fortunately, you are not alone. Jack J. Schmerling, Attorney at Law, is here to serve as your dedicated traumatic brain injury lawyer in Baltimore County, ensuring you receive fair compensation for your injury to get you on the road to a full recovery.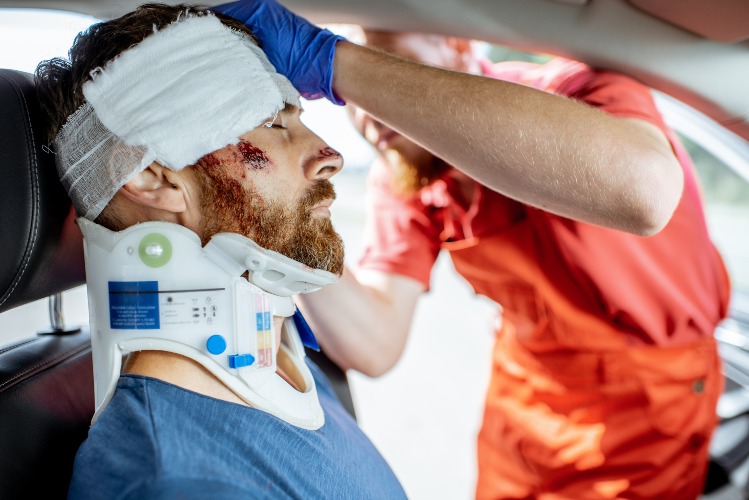 Do I Have a Valid Brain Injury Claim?
Those navigating the aftermath of being injured due to someone else's negligence, reckless behavior, or intentional act that has left them with a traumatic brain injury have the legal grounds to speak with a traumatic brain injury lawyer to pursue a claim.
Medical Malpractice
A traumatic brain injury does not always result from a sudden impact due to violence or an accident. In some cases, a traumatic brain injury may result from medical malpractice. Whether a healthcare provider fails to provide a timely diagnosis or makes a critical error during surgery, brain injuries can happen quickly, permanently altering one's life forever.
Types of Medical Errors
There are many situations where medical malpractice can lead to a brain injury, including but not limited to the following:
Surgical errors
Failure to intubate
Medication mistake
Failure to pursue testing
Infant delivery complications
Improper administration of anesthesia
Failure to diagnose a condition or illness
Misinterpreting or misreading medical testing, scans, or X-rays
Causes of Traumatic Brain Injuries
A brain injury can happen anywhere, at any time. However, there are several commonly seen causes of brain injuries, including the following:
Falls
Violence
Combat injuries
Vehicle accidents
Medical malpractice
Sports-related injuries
Recovering Compensation for TBI Expenses
When you or a loved one experiences a life-changing event that results in a brain injury, you are eligible to recover compensation for the damages by filing a personal injury lawsuit with the help of a brain injury lawyer.
Compensation for Damages in Personal Injury Lawsuits
Compensation for damages in a personal injury lawsuit may be used to accommodate severe financial strain and the abrupt shift in your abilities to live the life you once did. Recovered compensation may include:
Lost wages
Medical expenses
Pain and suffering
Loss of companionship
Loss of earning abilities
Loss of enjoyment of life
Therapies and rehabilitative care
On-going and future medical treatment
Consequences of a TBI
Brain injuries can alter the trajectory of one's life. Once easy tasks can become significantly challenging, and they may be unable to care for themselves or live independently. Furthermore, a victim of a TBI may require extensive medical care and various therapies to regain any sense of normalcy in their lives.
Common Long-Term Effects of a TBI
Some of the common long-term effects of a traumatic brain injury may include the following:
Coma
Anxiety
Seizures
Paralysis
Numbness
Depression
Slurred speech
Chronic fatigue
Decreased dexterity
Dizzy spells or loss of balance
Confusion and cognitive changes
Proving Negligence
Proving negligence in a brain injury claim can be challenging without the assistance of a Baltimore brain injury attorney. Proving negligence requires evidence, which may be demonstrated as violations of safety standards, expert opinions, witness testimonials, and other forms of documentation that build a strong case to bridge the gap between a brain injury and negligent behavior.
Four Elements of Proving Negligence
When proving negligence in a traumatic brain injury lawsuit, four elements must be demonstrated, including the following:
The defendant's duty of care
The defendant's breach of their duty of care
Damages incurred as a result of the negligence
Causation tying the injury to the actions of the defendant
Choose Jack J. Schmerling, Attorney at Law
There are many factors to consider when hiring a traumatic brain injury lawyer in Baltimore. When you or a loved one has suffered a traumatic brain injury, it's imperative to secure experienced legal backing to help you build a case and advocate your rights and best interests. Jack J. Schmerling, Attorney at Law, is Baltimore's trusted brain injury lawyer, helping clients receive fair compensation and closure following a traumatic event.
Speak with a Trusted Baltimore Brain Injury Lawyer
Have you or a loved one been critically injured, receiving a traumatic brain injury that has altered your life? Jack J. Schmerling, Attorney at Law, is here to advocate and provide compassionate legal backing to foster a redemptive outcome for your case. Contact us to schedule a consultation.
Our Values Statements
Over 35 Years of Experience
Work Directly With Attorney Jack Schmerling
Free Consulations
No Recovery, No Fee