Back Injury Legal Services in Maryland
Our Attorney Will Get You Compensation for Back Injuries
Back injuries and spinal cord injuries are the most common types of injuries in personal injury lawsuits. Whether your back was injured on the job, in an auto accident, or due to a slip and fall, an experienced spine injury lawyer can help you get the compensation you deserve. Jack J. Schmerling is an experienced, aggressive attorney who can help you navigate the complexities of seeking compensation for back injuries in Baltimore, MD. Mr. Schmerling and his team will work tirelessly for you to protect your rights in court and recover from your injuries without worrying about your medical bills and lost wages. Call us today to schedule a free initial consultation with our attorney.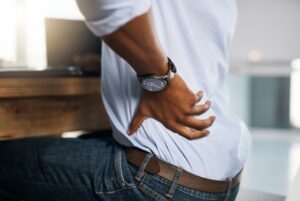 Causes and Symptoms of Back Injuries
It's important to be able to be aware of what causes back injuries and be able to recognize the common symptoms of back injuries. This way, you can hire an attorney to represent you in a personal injury lawsuit if you suffer from a back injury due to someone else's negligence, malpractice, or malicious intent. The most common causes of back injuries are:
Sprains and strains of muscles, ligaments, or tendons.
Herniated or bulging disc.
Fractured vertebra.
Slipped disc.
Myofascial injury.
The most common symptoms of back injuries are:
Increased pain when bending, lifting, sitting, standing, or walking.
Back pain that comes and goes.
Stiffness and loss of range of motion.
Inflammation, tenderness, and swelling.
Pain that radiates from the lower back into the butt, hips, thighs, or feet.
Numbness in the legs or feet.
Severe back pain that doesn't go away with rest, medication, or treatment.
Back pain combined with trouble urinating, numbness or weakness in the legs, fever, or weight loss.
Hunched posture or an inability to stand up straight.
Trouble sleeping, eating, exercising, working, or participating in hobbies.
Most Common Back Injuries in Personal Injury Suits
Not all back injuries will result in compensation in a personal injury lawsuit. The most common reasons for back injury lawsuits are:
Slip and fall accidents – Slip and fall accidents occur when someone slips, trips, or falls on someone else's property. This can occur at the workplace, at a store, or on a public street or sidewalk. To seek compensation for back injuries from a slip and fall accident, your spine injury lawyer must be able to prove the owner of the property where the accident occurred had a duty of care, knew about the hazards of the property, and their failure to maintain their property properly resulted in the accident.
Workplace accidents – Workplace accidents commonly cause back injuries. You can file a worker's compensation claim to cover your lost wages and medical bills resulting from a workplace back injury. However, that may preclude you from seeking additional damages through a personal injury lawsuit. A spine injury lawyer can preserve your rights and give you the best chance of securing maximum compensation for your injuries.
Car accidents – Back injuries are one of the most common auto injuries. You can suffer from a herniated disc, torn ligament, strained muscle, broken vertebrae, or spinal damage due to a car accident. A spine injury lawyer can prove your injuries resulted from the accident and find the at-fault parties.
Long-Term Effects of Spinal Cord Damage
Serious back injuries occur when the spinal cord is damaged in an accident. Slips and falls, car accidents, workplace injuries, sports injuries, gunshot wounds, and complications from surgery are the most common causes of spinal cord injuries. A spinal cord injury can be complete or incomplete. A complete spinal cord injury causes complete paralysis and affects both sides of the body. It may result in paralysis of all four limbs or the lower half of the body. An incomplete spinal cord injury causes the loss of function of part of the body, either on one or both sides. The body will lose essential functions if the nerves cannot communicate with the brain. This can cause:
Dysfunction or dysregulation of the bowel and/or bladder.
Trouble breathing or respiratory issues.
Issues with your heart rate.
Problems with metabolic regulation.
Inability to control muscle movement.
Loss of muscle movement.
Problems with reflexes.
Inability to feel certain sensations or feeling sensations that aren't there.
Holding a Defendant Accountable for a Serious Back Injury
If your spine injury lawyer can prove a defendant is negligent, you can request compensation for your back injury. In Maryland, you can request monetary (economic) and non-monetary (non-economic) damages. This means you can request compensation for medical bills, rehabilitation, lost wages, loss of consortium, loss of enjoyment, and pain and suffering. To prove negligence in Maryland, you must show that there was a duty of care between the person who caused the accident (defendant) and the person who was injured (plaintiff). The defendant must have breached that duty through their actions, or the damages caused resulting from the breach of activity. In more plain terms, your attorney must prove that the defendant was responsible for protecting you from injury. When they failed to do so, the harm you suffered was a direct result of that, and you have provable injuries.
Why Choose Jack J. Schmerling as Your Spine Injury Lawyer
At the law office of Jack J. Schmerling, attorney at law, we specialize in helping our clients obtain the compensation they deserve for injuries sustained in workplace accidents, auto accidents, and other personal injury claims. Mr. Schmerling has decades of experience and works tirelessly to protect his clients' rights and secure them the best possible outcome in court. We recognize how overwhelming the legal process is, and our goal is to help you obtain compensation with as little stress as possible. We don't want you to worry about medical bills, lost wages, and other issues while you are in pain and trying to recover from your injuries. We will aggressively pursue every avenue, negotiate on your behalf, and represent you in court.
Accident Attorney Representing Victims in the Baltimore Area
If you have a back injury and think you have a personal injury claim in the Baltimore area, call us today or contact us online. We will schedule a free initial consultation to gather information about your case and allow you to ask questions and get to know Mr. Schmerling and his team. We strive to create a comfortable, compassionate environment for each one of our clients.
Our Values Statements
Over 35 Years of Experience
Work Directly With Attorney Jack Schmerling
Free Consulations
No Recovery, No Fee