A Work Injury Lawyer in Glen Burnie, MD
Learn More About Workplace Injuries and What to Do
Getting injured on the job is something no one wants to think about. Unfortunately, it's a reality for people throughout the country. The residents of Glen Burnie, MD are no exception. If you've been the victim of a workplace accident, be sure to get in touch with Jack Schmerling, Attorney at Law as soon as possible. Schmerling, along with his team, will help you build an airtight case to earn your work injury compensation. We understand that this is a difficult, and even scary, time, but we're here to make the legal process a little less stressful.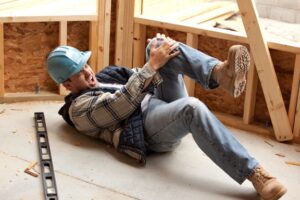 What Should I Do After a Workplace Accident?
In the immediate aftermath of an accident, your mind may be hazy and scattered. That's why it's crucial to know the proper steps beforehand so you can handle an accident if it occurs. Victims of a workplace injury should follow these guidelines in the moments, days, and weeks after an accident:
Seek Medical Attention: Your wellbeing always comes first. Accept any medical help you're offered or seek it out yourself. According to Maryland law, you do not have to see a doctor approved by the employer.
Report Your Injury: Notify your employer of the accident as soon as possible. If you wait to report the incident, it becomes more likely that your claim will be denied.
Keep Evidence: If you can, record any evidence at the scene of the accident. Take photos of the scene, then keep a personal record of what it's like to live with your injury.
File a Claim: To receive compensation, you'll need to file a claim. The team at the office of Jack Schmerling, Attorney at Law can help you get a work injury report together and work toward the compensation you deserve.
Mistakes Injured Employees Should Avoid
Many workplace injury victims make crucial errors as they work toward normalcy. First and foremost, be sure to follow all proper steps when it comes to notifying your employer. Always seek legal representation, as it's invaluable to have a professional on your side when disputes arise. But perhaps the most common mistake injury victims make is posting to social media. Make sure to keep the details of your case off the internet to increase your chances of work injury settlement.
Workers' Compensation Considerations
As with many legal processes, filing for workers' compensation is complicated. While you could try to study the legal code on your own, it's in your best interest to work with a skilled workplace accident attorney. We'll help you navigate all the following considerations, and then some:
Qualifying Injuries: Not all injuries are eligible for workers' compensation. The injury must occur while you are performing job duties. Our team will help determine if you have a case.
Degree of Disability: When you visit the doctor, you'll likely find out if your injury is temporary or permanent. Depending on the extent of your injury, you may receive compensation to cover medical bills and living expenses.
Negligence: All too often, workplace accidents are the result of the employer's negligence. In other cases, the negligent party is a co-worker or vendor. If your accident happened because of someone's negligence, you might have cause for legal action.
Know the Difference Between Work Injury and Workers' Comp
Work injury claims and workers' compensation claims are not interchangeable. Before you consider a legal course of action, it's a good idea to understand the difference. Here's a brief overview of each type of claim:
Workers' Compensation: These cases typically seek to recover medical costs and lost wages. They aren't generally concerned with placing the blame on a particular person or party.
Work Inquiry: If you choose to make a work injury claim, you may have more opportunity to recover non-economic damages, such as pain and suffering. Opting for this type of claim means we'll need to prove that someone else was at fault for the accident.
Why Glen Burnie Residents Choose Us
Glen Burnie residents have long chosen Jack Schmerling as their workplace accident attorney. Not only do he and his team have a strong track record of success, but they're also well-equipped to take on a range of cases. We've seen it all when it comes to workplace injury, and we also have the expertise to help after a personal injury or auto accident. You don't deserve to take on the legal process alone—be sure to have an expert on your side.
Schedule Your Consultation Today
It's never a good idea to wait to obtain legal counsel. As such, make sure to get in touch with Jack Schmerling, Attorney at Law as soon as you're able. We know you have lots going through your head as you try to recover from a harmful accident, so we strive to take some of the burdens off your back. Allow us to help you get the compensation you need. Contact us to schedule your free consultation.