Car Injury Attorney in Glen Burnie, MD
Serving Car Accident Injury Victims with Care & Compassion
Sadly, auto accidents are all too common out on the road. Millions of Maryland drivers experience car crashes every year, and some sustain injuries as a result. If you have experienced injuries resulting from a car accident, Attorney Jack J. Schmerling in Glen Burnie, MD, can represent you. Our firm specializes in representing clients who have accident injuries resulting from car, truck, motorcycle crashes, and more. Attorney Schmerling has more than 40 years of legal experience and can represent your rights and interests in court, no matter the scope of your trauma. Whether you're in a minor fender bender or a major crash, if you're injured due to negligence, you need a car accident personal injury lawyer to fight for you. Contact our practice today to schedule your free legal consultation.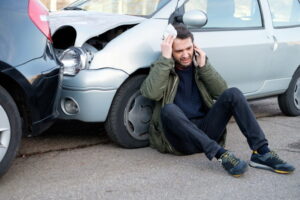 What to Do If You Are Involved in a Car Accident
After you've been in an auto accident, there are essential steps you should take to ensure your safety, the accuracy of the information, and a solid legal case. These steps not only serve to protect your well-being but can also make sure the parties responsible face justice. These essential steps include:
Get Medical Attention: Estimate the severity of your injuries and the injuries of your passengers. If you or anyone else is too injured to move, do not. Wait for the emergency personnel. Even if you feel fine and do not show any signs of injury, get checked out by medical professionals. Injuries often do not present themselves, and by the time they do, your limitation window to file a claim could be closed. Medical professionals know what damage to look for, and their testimony and reporting could be vital to getting your compensation.
Call the Police: If no one has sustained life-threatening injuries, call the police. Filing a police report facilitates a smoother, stronger record of your accident and an exchange of insurance information between you and the other parties. Be sure to take lots of photos of car damage, vehicle positions, injuries, and license plates to corroborate the details of the police report. Finally, provide the police with witness information or get witness contact information from them to ensure the most precise recollection of the events as they took place.
Consult a Car Accident Lawyer: No two accidents are identical. By consulting with Attorney Jack J. Schmerling, you will understand your rights for your unique accident scenario, get insights into the next steps, and go over all of your courtroom options as well to recoup any compensation for vehicle damages and injuries.
How to Deal with Insurance Matters after a Car Accident
Dealing with the insurance companies after an accident can be almost as frustrating as recovering from your injuries. There are tough negotiations concerning responsibility, assessment intricacies, and deciding on what is fair compensation for each case. It is not a task you should undertake on your own. Attorney Jack J. Schmerling has decades of experience defending injured clients from insurance companies' cutthroat practices and getting the full compensation clients to deserve. Our firm can help you too. We send demand letters on your behalf, negotiate, and fight with you until the end. Our practice also works on a contingency basis, meaning that we don't get paid until you get paid. Contact us today for your free legal consultation.
Uninsured & Underinsured Motorists
Uninsured Motorist Insurance (UIM) is a mandatory part of all insurance policies in Maryland, as it is having up to $60,000 in coverage to pay for vehicle damage and medical expenses. UIM protects you if you are in an accident with someone who doesn't have insurance or doesn't have enough insurance to pay for your injuries or the damage to your vehicle. This insurance can also be an important factor in getting the compensation you need for your car accident injuries. Schedule your free legal consultation to learn more about all the advantages UIM can offer you.
Why Hire Attorney Jack J. Schmerling after Auto Accident Injury?
If you pay the price for someone else's negligence out on the road with a car accident injury, you don't have to face the struggle alone. Attorney Jack J. Schmerling has the right legal acumen and experience to represent you and get the compensation you need to stay financially stable during your recovery. Even if you are at fault for the accident, we can still be your advocate throughout any aftermath. No matter the scenario, our firm is knowledgeable concerning the laws and will always negotiate on your behalf with insurance companies. But more than policies and payments, Attorney Schmerling will help you ease the emotional turmoil of your injuries by handling all the details of your claim. Adjusters, damages, loss of property and wages, medical and therapy expenses – we will always strive to recover what is rightfully owed to you and help you get your life back after injury. Contact Attorney Jack J. Schmerling today for your free legal consultation.
Contact Attorney Jack J. Schmerling After an Accident
Attorney Jack J. Schmerling has handled car accident injury claims in the Baltimore, MD, area for more than 40 years. To this day, he remains a dedicated, local auto injury expert, deftly handling cases of every size and scope. If you've been injured in a car accident, don't navigate the legal and medical complexities on your own. Contact the Law Office of Jack J. Schmerling today and get the car accident representation you expect from the best.