Personal Injury Lawyer in Glen Burnie, MD
Look to Us When You Need a Personal Injury Attorney
Have you been injured in an accident at no fault of your own? Perhaps you were hurt in a car accident after another driver failed to yield the right of way. Whatever your situation, you may have a personal injury case. Unfortunately, getting personal injury protection can be confusing. But Glen Burnie, MD residents can always count on Jack Schmerling, Attorney at Law for legal help. Our attorney, along with his team, will walk you through your legal options and help you get the compensation you need to make a full recovery.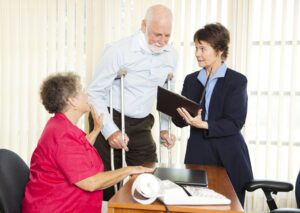 What is Personal Injury Law?
In short, personal injury laws allow people who have been injured because of another party's negligence to recover damages for their injuries. These damages could encompass a wide range of losses, including medical bills, lost wages, and even pain and suffering. If the injury greatly affects your quality of life, you may be eligible for additional compensation. However, personal injury cases are quite complicated, as the victim must prove that another person or group of people is at fault for their injury. Because personal injury law is complex, it's always a good idea to have an experienced lawyer on your side.
Types of Personal Injury Cases We Handle
At the office of Jack Schmerling, Attorney at Law, we're well-equipped to handle a range of personal injury cases. We're particularly experienced with car accident injuries and workplace accidents, but that isn't the full extent of our expertise. Here is a brief overview of the personal injury cases we may be able to help with:
Motor Vehicle Accidents: Our team has a comprehensive understanding of the car, truck, and motorcycle accidents. Be sure to get in touch with us if you've been involved in a wreck.
Premises Liability: Property owners have a responsibility to keep their grounds safe for all who enter. If you've been injured at a gas station, public park, retail establishment, or restaurant, you may have a case.
Workplace Accidents: Our attorney can help you understand the ins and outs of reporting a workplace accident and filing a workers' compensation claim.
Slip-and-Fall Accidents: If you've slipped and fallen thanks to the lack of caution signage or another's negligence, we can help you get compensation for your injuries.
Product Liability: Too often, consumers are hurt by defective or dangerous products. Our team can help you get compensation from negligent companies and manufacturers.
Get Compensation for Your Injuries
Those who file personal injury claims may be eligible for a variety of damages. Depending on the extent of your injuries, you may recover monetary compensation. When you consult with us and explain your situation, we may be able to estimate the types of amounts of damages you could receive. The most common types of economic and non-economic damages include:
Hospital bills
Physical therapy
Lost wages
Property damage
Pain and suffering
Loss of quality of life
Disfigurement
A Proven Record of Success
As you search for a top-notch personal injury attorney in Glen Burnie, be sure to choose one that has a proven track record of success. And you don't need to look far to see Jack Schmerling, Attorney at Law's numerous success stories. Many of our clients report an excellent experience with Schmerling and his team, not to mention physical proof of success, such as monetary compensation. In addition to our track record of successful cases, our clients trust us because of our compassionate services. We know that a personal injury case comes with the trauma of an accident or hospital stay. We're dedicated to taking the burden and stress off your shoulders when it comes to the legal process. Allow us to do the hard work for you.
Get in Touch with Our Attorney Today
If you've recently been injured in an accident, get in touch with Jack Schmerling, Attorney at Law as soon as possible. Those who wait too long may miss out on compensation for their injuries and reduced quality of life. Fortunately, our Glen Burnie, MD team can build an airtight case with evidence and witness testimony to win you the best outcome. You have nothing to lose—our consultations are free of charge, and we hold over 35 years of expertise. Contact us today to get started.