Common Car Accident Injuries
If you Have Been Injured, Hire an Experienced Auto Accident Attorney in Baltimore
When you have been hurt in a car accident, the aftermath can be as harrowing as the experience itself. From dealing with your medical expenses to communicating with your insurance provider, it can be difficult to be sure what your rights are. If you are in need of an experienced car accident lawyer in the Baltimore area to help you with your claim, contact the office of Jack J. Schmerling, Attorney at Law, for a complimentary initial consultation.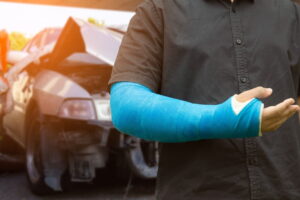 Common Car Accident Injuries
There are thousands of car accidents in the United States every day. Even seemingly minor accidents can cause serious injuries to nearly any part of your body. These are some of the most common types of car accident injuries:
Brain injuries. Sustaining a blow to the head can cause your brain to knock against your skull, resulting in bruising or brain damage. This injury can be as mild as a concussion, which will usually heal in a few weeks, or it can be as severe as a traumatic brain injury, which can lead to a long-term impairment of important cognitive functions.
Back and neck injuries. Car accidents can cause a number of different injuries to the neck and back. The most common of these is whiplash, which happens when your neck moves violently back and forth because the car has come to an abrupt stop. Other possible injuries include herniated discs, spinal cord injury, and sprains and strains.
Leg injuries. When you are involved in a car accident, your legs can easily sustain impact injuries. Common injuries include bone fractures, meniscal tears, dislocated knees, and broken or sprained ankles. While many leg injuries are not serious, others can lead to chronic pain, difficulty walking, and harmed the quality of life.
Facial injuries. When you experience the sudden impact of an accident, shattering glass can easily cut your face. Hitting your face against the dashboard, car seats, or even the airbag can also cause serious injuries, including severe bruising, broken jaws, and even broken teeth. These injuries can cause severe long-term dental problems.
Hiring an Auto Accident Attorney
Whether your injuries are major or minor, it's important to contact a personal injury law firm as soon as possible after your accident. Talking to an attorney now will help you protect your rights, so you can be sure that you will be treated fairly whether or not your case goes to court. Jack J. Schmerling, Attorney at Law, has more than three decades of experience helping people who have been injured in auto accidents. Our firm can work to help you recover the compensation you deserve.